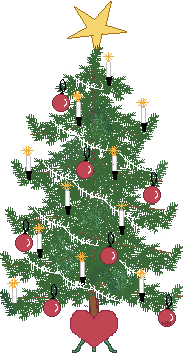 According to an old German tradition, a couple's Christmas tree should include these 12 ornaments to ensure happiness for their life together:



House ~ protection
Rabbit ~ Hope
Teapot ~ Hospitality
Bird ~ Joy
Rose ~ Affection
Fruit Basket ~ Generosity
Fish ~ Christ's blessing
Pine Cone ~ Fruitfulness
Santa ~ Goodwill
Flower Basket ~ Good Wishes
Heart ~ True Love

Some Tree Decorations...
Chandelier prisms make beautiful icicle ornaments for your Christmas tree!
Coat a faded glass ball ornament with white glue, roll in glitter and hang to dry! Instant sparkle!
Buy clear glass Christmas bulbs and fill with potpourri, sparkles or your own creative idea. Top with ribbon, pearl beads and tiny ribbon silk flowers.
Tuck bunches of fresh/dried babies breath in the branches. Other dried flowers work nicely!
String popcorn and cranberries together. It's easier if you let the popcorn sit out for 24 hours and use dental floss.
Buy several different kinds and sizes of ribbons, make bows and drape them through the tree like garland.
Use fabric strips to make bows and give your tree a homespun/country feel.
Make gingerbread shapes to use as ornaments. Dried apples and oranges make beautiful garlands or ornaments.
Spray gold paint on pinecones to give an elegant touch.
Buy small lace doilies, put them in a solution of glue and water, let dry. This will stiffen them so they can hang like snowflakes on the tree.
Make several theme trees and put them around the house (any size will do) and use your creativity and imagination coming up with different and unusual themes!
Some Christmas Tree Links

Grow A Christmas Tree
Rafi's Tree Lot


© 1998,1999 ~ Nancy Alison ~
"O Christmas Tree"
Backgrounds From:

Graphics from: