Christ's Birth
Christmas Decorating
Christmas Recipes
Christmas Stories
Christmas Crafts
History of St. Nick
Traditions & History
Gift Wrapping Tips
Gingerbread Creations
'O Christmas Tree
Let It Snow!
Poinsettias
Making A List
Prancer's Place
St. Lucia Day
Christmas Links
You are visitor

FastCounter by LinkExchange


Sign My Guestbook
View My Guestbook
Christmas Webrings
Christmas Thyme
Awards
About Webmistress
Decorating the house for the season
is one of the merriest things of all!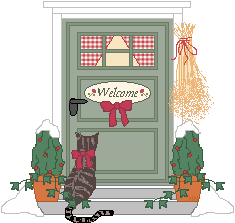 The Front Door
Hang a pair of ice skates on a front door decorated with with a big red bow.

A small, old fashioned sled (I own my mother's from when she was a child) tied up with holiday ribbons is a wonderful way to greet visitors on your front porch.

Fill a basket with holiday greeting cards and greenery. Add a bow and hang by the front door, or place on an entryway table.

For a touch of olden charm, dangle sleigh bells from a doorknob.


Holiday Hallways
~Remember your guests enter here and need to know it's Christmas before they enter your living room: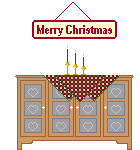 Ribbons, dried flowers, tassels and garland all strung together on the hall stairway banister make a charming first impression.

Make spirits bright with the sounds of Christmas. "Pipe" carols into the hallway and throughout the house. Add extra speakers to your stereo or put cassette players in every room.

Fill the air with the smells of Christmas. Besides natural greenery in the hallway, prepare bowls of potpourri and let those cooking smells waft through the house - gingerbread cookies, fruit cakes and plum pudding. Yum!

Place tall branches in an old umbrella stand and decorate with deep red, ruby bows for a Victorian flair.




Holiday Living Rooms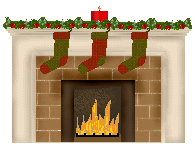 Use garlands festooned with ribbons and bows to adorn paintings and mirrors.

Arrange your childrens stuffed animals under the tree until the packages arrive..or maybe your own teddy bear, doll or basket collection!

Decorate the hearth with nature's finest. Arrange boughs of spruce and pine with rosy apples, wine-red cranberries and holly for color.
Place baskets filled with giant Sequoia pine cones and homespun fabric bows on end tables and coffee tables.

Adorn the mantel with groupings of short colorful candles and tall elegnat ones surrounded by red berry clusters.

Hang delicate snowflakes from light fixtures and wall sconces.

Have the sweet scent of Christmas perfume the house. Place a cinnamon stick in a jar of water and slip behind the radiator in each room. The heated water will fill the air and carry the scent throughout the house.



Beautiful Bedrooms
~While your decorating the downstairs don't neglect the bedrooms.
Who says Christmas trees can only be put up in the living room?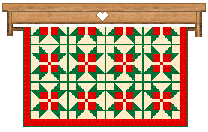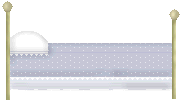 Place small trees in each bedroom, decorated to match the decor.

Let your kids decorate the small tree in their room with their favorite collectibles or ornaments they've made themselves.

Fill baskets with old-fashioned toys, blocks and puzzles and place them under the bedroom trees.

Hang silver and gold garlands over closet doors.

Place grapevine wreaths decorated with pink paper roses,candies and tiny lady apples over the bed. Or go with the theme you are using.

Arrange baskets of greenery decorated with toy cardinals and delicate angels on bedside tables.



Christmas Bath
~ Don't forget to do some extra special decorating in the bathroom - it's one place all your guests will visit. Be creative!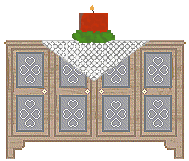 Display your Santa collectibles on the bathroom shelves surrounded by sprigs of holly.

Hang a miniature wreath decorated with colorful candy and tiny ribbons over the toilet.

Drape a set of jingle bells from the towel rack.

Take down your botanical prints and hang some beautifully framed Christmas cards over the sink.

Add a holiday scent with candles, incense and potpourri.

Put out festive hand towels.


Christmas Kitchens
~ No matter how nicely you decorate the rest of the house, it seems like everybody always congregates in the kitchen. Add Christmas cheer to the center of the house.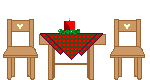 Remove your regular seat cushions and put a Christmas pattern on your chairs.

Throw a quilt done in holiday colors over the kitchen table.

Tie big bows to everything. The mop, broom, the coffee pot, toaster and microwave.

Turn house plants into holiday displays by adding decorations to them.

An old fashioned cut glass cake plate makes a beautiful base for a Victorian centerpiece.

Center a votive candle under a tin grater for a beautiful candlelight. Tie a bow to the handle.

Cranberries make colorful pebbles for your holiday flower arrangements.

Green ivy topiaries in terra cotta pots are beautiful and festive on the windowsill or mantel.

Fill crockery bowls with scented pinecones and apples.

Line cupboard shelves with bright holiday plaid towels.

Don't forget greenery for the tops of your cabinets.






"Sing We All"





Background From:
Wildheart Creations

Graphics From:


© 1998,1999 ~ Nancy Alison ~