Christ's Birth
Christmas Decorating
Christmas Recipes
Christmas Stories
Christmas Crafts
History of St. Nick
Traditions & History
Gift Wrapping Tips
Gingerbread Creations
'O Christmas Tree
Let It Snow!
Poinsettias
Making A List
Prancer's Place
St. Lucia Day
Christmas Links
You are visitor

FastCounter by LinkExchange


Sign My Guestbook
View My Guestbook
Christmas Webrings
Christmas Thyme
Awards
About Webmistress
Welcome To Baby Prancer's Place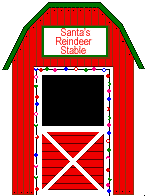 Hi ! Iím Baby Prancer the Reindeer Iím new here.
Iím very little so before you pet me
you have to wash your hands with special soap.
Donít you worry about the kids and me,
I am very gentle and wonít bite or nip at all.
I was born on November 18 ,1998 .
My best friends are Rudolph the Red Nosed Reindeer,
Frosty the Snowman, Jack Frost,
And of course the Jolly old fellow himself Santa Claus.
Hope you enjoy the Holidays!!

~ Baby Prancer ~
Written By Allison Elizabeth
My Daughter


#4



This is a game Baby Prancer likes to play!




And here is his for coordination,
his to get over his fear of flying,
and his so I can always hear him!





Baby Prancer uses his trampoline every day! It keeps him in shape for all the activities he does during the month of December!




Santa loves all his reindeer very much and takes good care of them when Baby Prancer is not with me!





Graphics from:



© 1998,1999 ~ Nancy Alison ~


"Rudolph The Red Nosed Reindeer"