Christ's Birth
Christmas Decorating
Christmas Recipes
Christmas Stories
Christmas Crafts
History of St. Nick
Traditions & History
Gift Wrapping Tips
Gingerbread Creations
'O Christmas Tree
Let It Snow!
Poinsettias
Making A List
Prancer's Place
St. Lucia Day
Christmas Links
You are visitor

FastCounter by LinkExchange


Sign My Guestbook
View My Guestbook
Christmas Webrings
Christmas Thyme
Awards
About Webmistress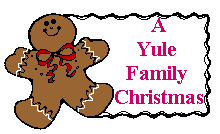 Kathy's Christmas
Granny's Country Cottage Christmas
Lynne's Christmas
Carol's Chrismas Corner
I Can Bearly Wait For Christmas
Debbie's Christmas Pages
Lucille's Christmas Party
Holidays In The Tropics
Christmas Traditions Around The World
Santa's Christmas Page
Virtual Quincy Christmas Links
Snowman Games
The Christmas Depot
MicBran Lane
Christmas Colors
Santa's Web Site
Christmas Jukebox
Christmas Round The World
A Christmas Wish For Corey
Captain Jack's Christmas Tree Farm
Tis the Christmas Season
Christmas at Greentown School
Santa's Links
Christmas at Orchard Hill School
Keypal's Library
Holidays Page
Santa's Favorite Links
Matt's Christmas Page
Lyn's Christmas Links
Christmas Wonderland
Star and Mickey's Cool Christmas Page!
Merry Christmas Everyone From Santa's Apple City Elves
Southwestern Bell: Happy Holidays Stories & Literature
Christmas All Year Long On The Web Society
Petitchoux's Xmas Page!


HandiLinks To Holidays-Christmas

Happy Holliday from Caywood School

English Held and Other Useful Links

Donna's Christmas Page

Christmas Stories

Santa Claus Online

Nerd World Christmas

Merry Christmas "The Green Book"

Marvelicious Christmas Links

Wizard1's Sights and Sounds of Christmas!

Santa's Ottawa Valley Headquarters

National Christmas T






© 1998,1999 ~ Nancy Alison ~


"I Saw Mommy Kissing Santa Claus"


Background From:
Graphics From: