Christmas Crafts

Apple and Orange Garlands
Apple Slices: Slice 1/4 inch thick and soak for 30 minutes in a brine made from the juice of 2 lemons, 2 tablespoons of salt and 1 cup of water. Spread on parchment paper on a cookie sheet and bake 2-3 hours in a 200-250 degree oven. Easier method: Leave slices in an oven with a pilot light for 2 days, or until they lose all moisture. Strung into garlands, the apple slices will air-dry completely and "last forever".
 


Orange Slices Cut oranges into thin slices, lay on paper towels and microwave on high for 1 minute. Flip and repeat several times, then follow directions for baking apple slices in oven.
You can string your slices on heavy nylon thread (like fishing wire) or heavy dental floss. You can also add bay leaves, cinnamon sticks (cut short) and babies breath. Make them as long as you want. Add raffia bows to the ends.



Apple Wreath Using apple slices that have been dried, take a large embrodiery hoop and layer the apples around the ring. Hot glueing each slice as you go. Add a bow, some artifical Christmas greenery, or Christmas picks and dried babies breath. Now you have made a wreath!




Scented Cranberry Wreath
You will need: wire, fresh cranberries, glue, baby's breath and satin ribbon or fabric


1. Shape the 18 gauge wire into a heart of the desired size. String fresh cranberries tightly onto the wire (they will shrink considerably). Air-dry flat in a very warm, dry place. It will take a week or more for fruit to dry.


2. Insert a hanging wire or thread and hot glue ends together. Adorn with babies breath and 1/2 inch ribbon or fabric strips to make a bow. You could also dot the wreath with Cranberry oil.



Christmas Tree
Make a little heart Christmas tree in the kitchen
and decorate with shiny tin or copper cookie cutters.
Tie them on with strips of red homespun fabric.




Gingerbread Decorations
Hang spicy gingerbread hearts from a garland over a doorway ~
you'll get a fragrant whiff everytime you pass!



Sachets and Ornaments
Fill Santa's sack with assorted heart ornaments.
Sew a flat-bottomed burlap bag
and weight it with a block of wood.
Reach inside for a heart to give away to holiday visitors ~
perhaps a stuffed homespun ornament, or heart shaped lavender sachets.


Projects For Kids

Reindeer Ornaments
Make reindeer oranments or fridge art by tracing your child's hands on to two pieces of tan felt (antlers).

Then trace their foot on to a piece of dark brown felt (reindeer face).

Top with joggle eyes and a red pom pom nose…instant reindeer!

Thread at top for ornament or glue magnet on back.
Winterland House
A simple shoe box can be turned into a winter wonderland for children.
Cut a rectangle shape in the lid of the shoe box.
On inside of lid, tape a piece of white tissue paper (this allows light to filter through).
On side of shoe box cut another rectangle shape (this allows you to peer through box).
On inside of box, glue white or navy blue construction paper to the sides of the box.
Glue fiber fill to the bottom of box.
Streak glue on fiberfill and shake sparkles on it.This is the snow.
Cut out old Christmas cards and position pictures like a winter scene in the shoe box.
Wrap the outside of the box with pretty Christmas paper.
Viola! Instant winterland viewmaster!

Christmas Card Game Book
Make a scrapbook of old Christmas cards into a game.

Glue them onto construction paper and take a paper punch and put three rings or tie heavy yarn.

Simply find cards that resemble the title of a Christmas song or theme.

EXAMPLE: Baby Jesus In a Manger would be "Away in the Manager" A Snowman on a card would be "Frosty the Snowman". This is a great way for kids to remember songs!
Pretzel Wreath
Cut 5-inch squares from green poster board.

Cut a 1/2-inch circle from center to make a 3/4-inch circular base.

Arrange 6 miniature pretzels on base. Mark the center of each large pretzel loop with a pencil. Remove pretzels, and with a hole punch make holes at the marks.

Place 6 pretzels over holes and glue them to the base; turn base over and glue 6 more pretzels, matching them to pretzels on opposite side. Let dry overnight.

Spray both sides with varnish and let dry.
Weave thin ribbon through the holes and tie a bow
at the top to make the wreath. (Note: An adult or an older child may use a hot-glue gun to complete the project in about an hour.)
Cinnamon Ornaments
Combine 3/4 cup applesauce and a (3.88-ounce) jar ground cinnamon, stirring well.
Turn out onto work surface. Roll to 1/4-inch thickness;cut with 3- to 4-inch cookie cutters, and cut holes for hanging with a plastic drinking straw.
Transfer to wire racks; let stand, turning occasionally, 4 to 5 days or until dry. Or place on lightly greased baking sheets, and bake at 225° for 1 1/2 hours or until dry.
Insert thin ribbons through holes to hang. Yield: 1 dozen.

Starlight Mint Wreath

Cut out a cardboard donut.
Insert a brass fastener and attach a raffia loop (for hanging).
Or purchase a small wooden embroidery hoop. Glue on starlight mints and add a bright red bow.




Mitten Tags

Cut a mitten shape from cardboard, and trace it onto a piece of felt.
Cut along the lines, and glue the cardboard to the felt with clear-drying white craft glue.
Adorn the felt side of the mitten with designs (using felt scraps, pom-poms, sequins etc.)
Glue a standard size clothes-pin to cardboard.
Stick self-adhesive magnet to the back of the clothespin.

Snowman Can
Take an empty coffee can (with lid on)and cover with white construction paper or white fabric.
Glue on black buttons for eyes and mouth, and orange felt for nose.
Top with a small child's knit cap or old fabric remnents and tie off the top.
Add blush to cheeks.
Kids Craft Links


Free Crafts For Kids

Aunt Annie's December Crafts



<!- BEGIN CHRISTMAS COOKING & CRAFTS WEBRING-->
---

Graphics from: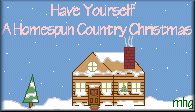 "Some Children"



© 1998,1999 ~ Nancy Alison ~
Last updated June 6, 1999